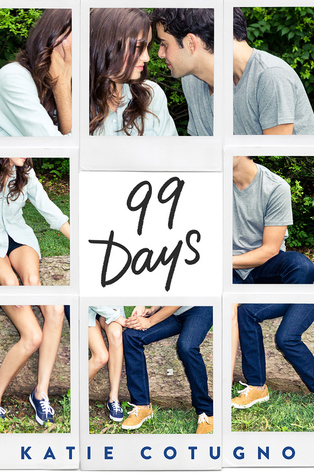 99 Days by Katie Cotugno
Publisher
: Balzer + Bray
Release Day
: April 21, 2015
Source
: Edelweiss*
Rating
: 5/5
Get it
:
Amazon
Day 1: Julia Donnelly eggs my house my first night back in Star Lake, and that's how I know everyone still remembers everything—how I destroyed my relationship with Patrick the night everything happened with his brother, Gabe. How I wrecked their whole family. Now I'm serving out my summer like a jail sentence: Just ninety-nine days till I can leave for college, and be done.

Day 4: A nasty note on my windshield makes it clear Julia isn't finished. I'm expecting a fight when someone taps me on the shoulder, but it's just Gabe, home from college and actually happy to see me. "For what it's worth, Molly Barlow," he says, "I'm really glad you're back."

Day 12: Gabe got me to come to this party, and I'm actually having fun. I think he's about to kiss me—and that's when I see Patrick. My Patrick, who's supposed to be clear across the country. My Patrick, who's never going to forgive me.
My thoughts, feelings and reactions
Katie Cotugno had me at her first novel, How to Love, and even more so with her second in 99 Days. I was consumed, enamored, and swept up in the craziness of Molly's summer back home. I couldn't wait to finish her story. 


Can I just say that Molly's love life was one big unexpected roller coaster ride?! It was very compelling to read because throughout the book, she struggles with the stares, the whispered remarks, the cruelty of her old friends turning on her all the while having the Donnelly brothers back on her radar. She tries her hardest to get through the days that she has until she goes back to school. During this summer back home, Molly tries to find herself, figure out what she wants in life, mend the friendships she lost, and ultimately decide whether to fix what was broken between her and the Donnelly brothers.


Right off the bat I knew that Molly would be a tough character. I would have either disliked her from what she did or go head first into her world and see her side of the things. So I have to say that reading 99 Days, you will need an open mind about Molly because I promise that Cotugno will show you the truth. And while the truth is not easy to read you will develop a totally different perspective and understanding in Molly's situation.
99 Days is not just about Molly getting through those days, but showing you what lead to Molly and Gabe's indiscretion. Molly is not perfect by any means and she does make some major mistakes in this book. But for all the wrong choices she made, I still loved her. She was still a bright, smart young girl who had a lot to offer. She didn't just mope around or hide all summer. She actually made her 99 days work for her. And even with what happened between her and the Donnelly boys, she didn't deserved to be ridiculed and bullied or driven away from her home. 


I also thought this book really showed the unfairness of how Molly got all the backlash, all the hate while Gabe barely had any. No one that was really close to Molly put a stop to it. It was not to say that Gabe didn't have any sort of consequence with what happened, but it was plainly obvious that it wasn't as harsh as the way Molly was tormented. She wasn't the only at fault, but in a situation like this, she was put as the ultimate bad guy for coming in between the brothers. It really sucked to have to see all that hate geared toward Molly.


99 Days is not a second chance love story, and in my opinion I don't think it's a love story at all. Sure, there was romance, but that wasn't the point or the message I read in between the lines. I thought it was about forgiveness, friendship, and self-discovery. It was about learning from one's mistakes and becoming the bigger, better person. And I think Molly did that. Like I said, she's not such an easy character to love or even like, but you really learn to see her side of things, you feel for her as a person.


Overall, I thought 99 Days was a really good book. You have to read Molly's story to understand the bigger picture between her and the Donnelly boys. I think readers will appreciate a character who makes huge mistakes as a human can do and learn to deal and move forward because of it.
*Thanks to HarperTeen for the opportunity to read this book in exchange for an honest review