Aeicha @ Word Spelunking is celebrating her blog milestone of 500 Followers with a giveaway! Congratulations Aeicha! You heard right! An epic awesome, to die-for giveaway! Make sure to greet her a happy congratulations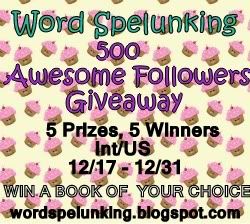 (click on giveaway button to be redirected to the giveaway post)
Some information about Aeicha's giveaway:
There will be 5 winners!
Winner #1
- Choice of any book $13 or less from BookDepository.com!
Winner#2
- Will choose one hardback copy from these choices:
All These Things I've Done by Gabrielle Zevin
The Faerie Ring by Kiki Hamilton
Lola and the Boy Next Door by Stephanie Perkins
The Radleys by Matt Haig
OR
- A Paperback set (You get ALL books from that set).
PB set 1:
Saving Francesca by Melina Marchetta
As You Wish by Jackson Pearce
Twenty Boy Summer by Sarah Ockler
PB set 2:
The Soulkeepers by G.P. Ching
Hush, Hush by Becca Fitzpatrick
PB set 3:
By Tera Lynn Childs
Forgive My Fins
Sweet Venom (ARC)
PB set 4:
The Radleys by Matt Haig
Jane Slayre by Sherri Browning Erwin
Winner #3 #4 & #5
One signed The Faerie Ring bookmark
One The Way We Fall (coming in Jan) promotional bookmark
Don't wait and enter her giveaway!
Just click on the giveaway button
and you'll be redirected to the giveaway post!
Rules and more information
is on Aeicha's
ORIGINAL POST
(click on giveaway button). Make sure to read Aeicha's post throughly.
Follow all rules
.
Or go through this link directly:
http://wordspelunking.blogspot.com/2011/12/500-follower-giveaway.html
My post here is not a way to enter Aeicha's 500 Follower Giveaway. This post does not contain full detailed information on the giveaway. You must enter the giveaway through by clicking the button above and following all of Aeicha's rule and policies.