Title: Integration (Bonfire Academy #2)
Author: Imogen Rose -
Website
|
Twitter
|
Facebook
Published: July 10, 2012
Format: Kindle ebook*
Rating: 4/5 stars
Get it:
Amazon
||
B&N
Second haiku warning:

A boyfriend missing
A lover must pay in blood
A princess must die

Welcome back to Bonfire Academy.
My thoughts, feelings and reactions.
Integration is the follow up and sequel to Imogen Rose's first book in the Bonfire Academy series, Initiation. In this second book, Imogen picks up from where the story last left off. Cordelia comes back to Bonfire Academy to start her year as Professor Bern's apprentice.
The book starts off with a very mysterious prologue that hooked me from the start. It had me eager to keep on reading because I felt I was finally going to get answers to all my questions from Initiation. Other familiar characters who I grew to love are back and not even a day has passed from when Cordelia arrives at BA when trouble starts up all over again. This time, the stakes are higher. Everyone Cordelia's close to is in danger and even more lives are at risk. There's so much threats surrounding not only Cordelia, but Faustine as well and it seems like no one can be trusted.
Imogen Rose really added in the suspense and thrill I was looking for in the first book. I didn't know what to expect in Integration and Imogen surely shocked me with the events that happened that I never thought to expect. Her writing is still just as addicting as it was in Initiation, but even more so. I couldn't help but want to keep reading to find out what was really going on, to discover why all this creepy stuff was happening to Cordelia. I was happy that Imogen gave me enough information to appease my curiosity, but she still kept plenty in the dark to keep me begging for more.
I really admired Cordelia in this book because she really started to take matters into her own hands. She finally started making her own decisions for herself and she also realized what was best for her and the people around her. I was proud of Cordelia for finally letting go the things and the people that needed to be let go. I just thought that Cordelia really stepped up her maturity in this book. I saw that she was really growing into herself, finding out what she truly wanted and needed for herself. I love that Cordelia continued to be such a great friend and protector towards Faustine. I also love Cordelia's determination to get to the bottom of things. Cordelia does everything she can to help solve the problems happening around her and she won't stop until the threats and danger that continue to plague them all finally cease. Cordelia is a true heroine and I can't wait to see what she does next!
Overall, Integration was a great addition to the Bonfire Academy series. It was even better than the first. It was fun, fast-paced and exciting. Fans of Imogen Rose will love this book and paranormal lovers will enjoy such a different world and amazing characters created in this book!
I can't wait for the next book and if you haven't started reading this series, I highly recommend it!
*Thanks to Roxanne from Bewitching Book Tours for sending a copy for review :)
Check out the other stops on the tour
HERE
.
~ GIVEAWAY~
3 Winners (INT) will win an Integration Swag Pack!
Courtesy of Amy K.
Non-Integration Promo Items Not Included
To Enter just fill in the Rafflecopter:
a Rafflecopter giveaway
Integration Teaser:
Broken. I couldn't think of a better word to describe it. I felt as if I'd been torn to bits, maybe even shredded. I was suffocating, surrounded by a wet tightness of skin and flesh all crusted together. My body was home to excruciating stabs of pain searing about randomly before a final thrust of sheer agony. I couldn't tell if the source of the pain was within me or if I was being repeatedly sliced open with a knife. Did it matter? I felt as though it was only a matter of seconds before my thoughts would end.

"Cordelia!"




My name. I flinched as the same voice repeated my name again and again. Why? Who was it? It—he—sounded familiar. I heaved as the voice triggered the memory of his face. Then, not being able to stop the bile from traveling up my throat, I gagged and purged, emptying my stomach completely. The next time he muttered my name, his voice was laced with disgust. But his revulsion couldn't compete with my utter repugnance and disbelief at what he'd done. Him. Someone I had trusted with my life, even though the rule was clear:

Trust No One.
About the Author: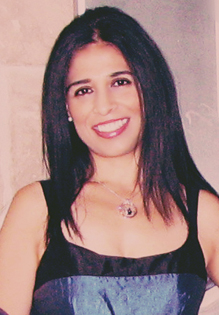 Imogen Rose is the author of the bestselling series, Portal Chronicles, which has attained cult status within indie literature and become a favorite among teens and adults alike. An immunologist by profession, Dr. Rose published her first work of fiction in 2010. She now writes full time and is currently working on her second teen series, Bonfire Chronicles. Imogen was born in Sweden and has lived in several places, counting London among her favorites. She moved to New Jersey in 2001. A self-confessed Hermès addict, Imogen freely admits to being obsessed with Kurt Cobain. She enjoys shopping, traveling, watching movies, and hanging out with her family, friends, and Chihuahua.
This book tour was brought to you by: