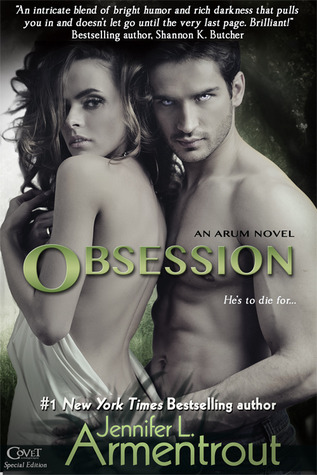 Obsession by Jennifer L. Armentrout
Publisher
: Entangled Publishing Covet
Publication Date
: May 31, 2013
Source
: Publisher
Rating
: 5/5 stars
Get it
:
Amazon
|
B&N
He's arrogant, domineering, and... To. Die. For.

Hunter is a ruthless killer. And the Department of Defense has him firmly in their grasp, which usually doesn't chafe too badly because he gets to kill bad guys. Most of the time he enjoys his job. That is, until he's saddled with something he's never had to do before: protect a human from his mortal enemy.

Serena Cross didn't believe her best friend when she claimed to have seen the son of a powerful senator turn into something... unnatural. Who would? But then she witnesses her friend's murder at the hands of what can only be an alien, thrusting her into a world that will kill to protect their secret.

Hunter stirs Serena's temper and her lust despite their differences. Soon he's doing the unthinkable—breaking the rules he's lived by, going against the government to keep Serena safe. But are the aliens and the government the biggest threats to Serena's life… or is it Hunter?
My thoughts, feelings, and reactions
Holy hot Arum! Jennifer L. Armentrout had me all hot and bothered for Hunter in Obsession like you wouldn't believe. She really steps it up with every novel she creates and this novel is no exception to the great work she has already put out that I've had the pleasure to read.
Obsession follows two characters: normal human, Serena and bad boy Arum, Hunter. These two come together under the worst of circumstances for both of them. Serena witnesses her best friend's murder by a Luxen and is needed protection ordered by the DoD with the reluctant help of Hunter. Although Serena was grieving for her friend, she was a strong character. Even with all the craziness of aliens on Earth, she seemed to try to wrap her mind around all of it as best she could. I liked her because she looked weak and timid, but she had some serious feistiness in her. She wasn't too afraid to fight back physically or verbally. Hunter had a bad attitude and didn't give a crap about anything. I swear he was pissed off 80% of the time. He was definitely worst than Daemon when it came to opening his mouth. He was cocky and infuriating and commanding and demanding but he was so freaking irresistible. It was really awesome that Serena was able to dish the sarcasm and anger right back at Hunter. He makes her rebel right back and she sort of entertains him to no extent.
JLA does an amazing job with her writing in this book. It was very easy going and not hard to follow at all. She differentiates Hunter and Serena's voice tremendously. She gives both characters personality and edge. And what I really loved was way she allowed both of them to grow and change like well developed characters should be. She made Hunter's character believable because she didn't change that he was an Arum, that he was bad though not completely. She allowed Hunter to care and love Serena in a realistic way in his actions and self control. And it goes the same for Serena because she learned to trust and believe in Hunter even when it was very hard to. What was truly impressive with Obsession was how JLA was able to show the gray area between good and bad for both Luxen and Arum. The lines got extremely blurred here and saying that one side was good and the other bad was not true or clear at all and I was more than ok with that.
There was plenty of action and fighting between Arum and Luxen that I found all the running and chasing to be riveting and exciting. It was super cool to visualize the way they fight and how they use their powers. I love the darkness from Hunter, how he could be so scary and relentless while being so absolutely breathtaking all at once. And speaking of action, the scenes between Serena and Hunter, and their building sexual tension hit way past the boiling point of burning hot. I'm going to admit that their scenes were a turn on. Yep, I went there! JLA can surely write one outstanding steamy sexy scenes. *fans self*

I really could go on and on about why I loved this book to pieces and bits. I really enjoyed how Hunter and Serena started of not really liking each other all that much and ending up caring about each other to the point that they were protecting each other with all they had. I was especially swayed by Hunter because he was so adamant in the beginning, but because Serena pushed her way into his life, she became his everything.
Because of all that and so much more, Obsession was top notch and had me engrossed 'til the very last word.
*Thanks to Entangled for sending a copy in an exchange for an honest review
Favorite Quotes
"You have a feisty little attitude, don't you?"
"You're about to get a feisty little foot up your ass."
"I can't get off? Oh, I most definitely can get off."
'To feast? Fuck that. I wanted to devour her.'
'It was almost cute, I thought, except I didn't do cute. But I wanted to do her.'
"Hunter...what are you doing?"
"What I want. And I want you."
'She was my light, my warmth, and I wasn't ready to let her go.'
"Is there really anything such as a good Luxen?"
"Is there really such a thing as a good Arum?"