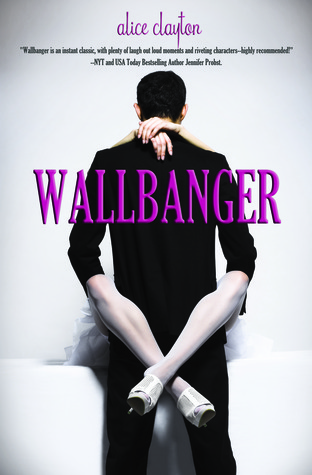 Wallbanger by Alice Clayton
Publisher
: Omnific Publishing
Publication Date
: November 27, 2012
Rating
: 5/5 stars
Get it
:
Amazon
|
B&N
The first night after Caroline moves into her fantastic new San Francisco apartment, she realizes she's gaining an intimate knowledge of her new neighbor's nocturnal adventures. Thanks to paper-thin walls and the guy's athletic prowess, she can hear not just his bed banging against the wall but the ecstatic response of what seems (as loud night after loud night goes by) like an endless parade of women. And since Caroline is currently on a self-imposed dating hiatus, and her neighbor is clearly lethally attractive to women, she finds her fantasies keep her awake even longer than the noise. So when the wallbanging threatens to literally bounce her out of bed, Caroline, clad in sexual frustration and a pink baby-doll nightie, confronts Simon Parker, her heard-but-never-seen neighbor. The tension between them is as thick as the walls are thin, and the results just as mixed. Suddenly, Caroline is finding she may have discovered a whole new definition of neighborly...

In a delicious mix of silly and steamy, Alice Clayton dishes out a hot and hilarious tale of exasperation at first sight...
My thoughts, feelings, reactions
Two words: Woah, baby. 


Wallbanger by Alice Clayton was just..wow, probably one of the best books I have ever read. I've heard amazing things about this book so I had high expectations, and sweet heavens, it was even more incredible than I first thought! It was saucy, zealous, and just so dang delectable, I couldn't resist eating this book up. Even now that I've finished this book, I'm still giddy with it's deliciousness. 

Sweet sweet Caroline! She was one delightful character that I was crazy about. Caroline was probably the most hilarious main character I have had the honor to meet and get to know in all of my time of reading books. She was so out there; outspoken, outgoing, successful and bold. One of the best things about her was how laid back, how fun and cute she was. Her quirky way of giving things nicknames and her pep talks to herself were so adorable. Caroline was so sassy and can put up a mean verbal fight with a killer glare to match. She didn't take any thing from any one and she was not afraid to say whatever the hell she wanted to say. She was a hard worker as a interior designer and a dazzling baker with great taste. Her friendship with Sophie and Mimi was so awesome as well. They were a great dynamic and I loved when they were together gossiping. I don't know about the rest of world, but I sure have a mad girl crush on Caroline.
Simon Parker: my favorite wallbanging, photo taking, beach sand collecting, zucchini bread lover of all time. Cocky, cool, and charming, Simon was not afraid to counter Caroline with his own clever comebacks. He was sexy as hell, confident in almost every way and very easy to get along with. Despite his wallbanging, unconventional relationship, Simon was a gentleman with a very kind heart that made my heart go pitter patter and my knees feel like jello. He was just so lovable, I seriously could not resist him even when he nearly messed everything up! I loved his arguments with Caroline and how they could really get under each other's skin. When they were together they were brimming with electrifying sexual tension. Caroline and Simon were relentless, always trying to get the last word in. The tight animosity became a rocky truce and turned into a friendship with flirtation and sexual innuendos all around. From the start, this attraction they had for each other was turning into a tornado full of tension and force that was so strong, so fierce, I was itching for it to touch down and bring me with it. There was never a dull moment when these two are around.
Wallbanger was full of non-stop fun. Alice Clayton's writing was freaking outstanding! For me, it was perfection because this book had everything I could have wanted. She gave the best humor, best romance, best bonds between relationships and friendships. Everything was well developed and each character had their own personality that was brought to life within this book. She really drew out and built up the romance between Caroline and Simon in an amazing way that wasn't quick or slow. This book had me grinning, laughing and swooning so much. I can honestly say that Wallbanger is the definition of laugh out loud funny at ever turn.
Overall Wallbanger was witty, funny and so freaking addicting. I couldn't tear myself away from this book no matter how much I tried. It was entertainment at its finest. This book was just golden!