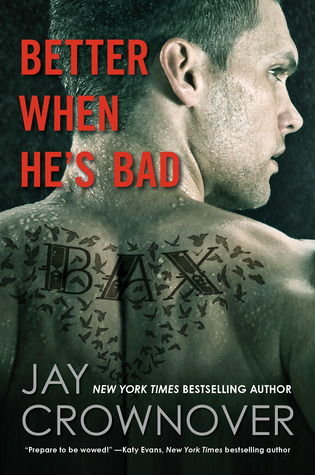 Better When He's Bad by Jay Crownover (Welcome to the Point #1)
Publisher
: William Morrow
Publication Date
: June 17, 2014
Source
: Edelweiss
Rating
: 4/5 stars
Get it
:
Amazon
|
B&N
Welcome to the Point

There's a difference between a bad boy and a boy who's bad . . . meet Shane Baxter.

Sexy, dark, and dangerous, Bax isn't just from the wrong side of the tracks, he is the wrong side of the tracks. A criminal, a thug, and a brawler, he's the master of bad choices, until one such choice landed him in prison for five years. Now Bax is out and looking for answers, and he doesn't care what he has to do or who he has to hurt to get them. But there's a new player in the game, and she's much too innocent, much too soft…and standing directly in his way.

Dovie Pryce knows all about living a hard life and the tough choices that come with it. She's always tried to be good, tried to help others, and tried not to let the darkness pull her down. But the streets are fighting back, things have gone from bad to worse, and the only person who can help her is the scariest, sexiest, most complicated ex-con The Point has ever produced.

Bax terrifies her, but it doesn't take Dovie long to realize that some boys are just better when they're bad.
I was so excited to read Jay Crownover's new book that wasn't already a part of the Marked Men series that I've become so obsessed. I had a feeling that Better When He's Bad would be something fresh with a lot of edge and I was sold by the sound of such a bad guy, not a bad boy, like Bax.
And let me tell you all about Bax. He was a criminal, a thief, and a thug. His reputation certainly preceded him. He could be tough, he could be rough and most definitely he was cold and ruthless. He had a map of scars all over his body, he wore a hard glare with his emotionless dark eyes like a mask, and had a star tattoo right next to his eye that made him unforgettable in every sense of the word. He loved fast, beautiful cars and the same went for the women he took to bed. He wasn't the type of person to back down from a fight and could be in your face and break it in a minute. Bax never pretended to be something he wasn't and he never made himself out to be the good guy or even said he could be the good guy someday which was evident throughout the whole book.
When Dovie came into the picture, Bax was still Bax. They didn't have some lovey romance. Sometimes Bax just straight up manhandled and barked at Dovie. However, we do get little tiny glimpses of someone who could be compassionate. This was shown by the little things that Bax did for her: held her while she slept, brush her hair away from her face, buy her clothes, and protect her when need be. This was what made him salvageable. Dovie was a tough little cookie and survived as best as she could too, but in the work-your-ass-off-on-the-right-side-of-the-law type of way. She was scared shitless by Bax, but she saw something in him that was wedged deep in there, someone within Bax she knew of as Shane. And what I truly appreciated about Dovie was her ability to accept Bax for who he was. She didn't make him change or didn't try to fix him either.
I rated this book down a star because most of the focus shifted to Dovie and Bax's "romance" for a lack of a better term. Not saying that I didn't enjoy those after the dark on the counter top sexy times, because let's face it, this is me we're talking about and I enjoyed them a lot. However, when I was in Dovie's head, I wanted to be in Bax's because I thought that's where all the action was going to be. A lot of the answers Bax was looking for just got told instead of shown if that makes sense at all. I'm not sure if it was the plot itself or maybe the pacing that made it seem like the information was just tossed at once. But I really loved this book because I was so darn invested into the story. I wanted to know what went down that night Bax got arrested. I wanted to know what the deal was with Dovie and her brother Race and why on earth Novak wanted Bax so much. When we do get answers, things pick up and several revelations come out; some I expected and others that threw me for a loop. I was also shocked by the extent of what Bax would do during the whole shebang and it was well worth the bumpy ride.
The best thing about this book besides Bax, of course, was how Crownover allowed readers to conjure up our own view of the Point and the Hill and all the dirty stuff in between. She made us feel that this neighborhood does indeed exist and that people do live this way and that there is not a shortage of danger, action, guns, strip clubs, dirty fights, money laundering, blackmail and jail time when you're in this type of neighborhood, living this type of life that Bax continues to live in. She brought this world to life so easily and I would be lying if I wasn't stoked to read more in this series.