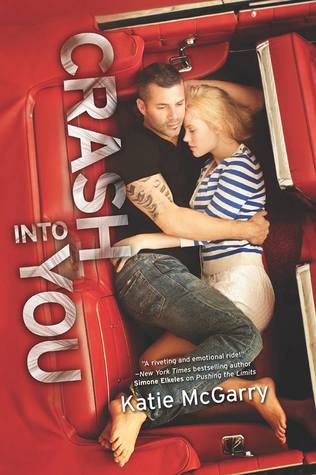 Crash into You by Katie McGarry (Pushing the Limits #3)
Publisher
: Harlequin Teen
Publication Date
: November 26, 2013
Rating
: 4.5/5 stars
Get it
:
Amazon
|
B&N
From acclaimed author Katie McGarry comes an explosive new tale of a good girl with a reckless streak, a street-smart guy with nothing to lose, and a romance forged in the fast lane.

The girl with straight As, designer clothes and the perfect life—that's who people expect Rachel Young to be. So the private-school junior keeps secrets from her wealthy parents and overbearing brothers...and she's just added two more to the list. One involves racing strangers down dark country roads in her Mustang GT. The other? Seventeen-year-old Isaiah Walker-a guy she has no business even talking to. But when the foster kid with the tattoos and intense gray eyes comes to her rescue, she can't get him out of her mind.

Isaiah has secrets, too. About where he lives, and how he really feels about Rachel. The last thing he needs is to get tangled up with a rich girl who wants to slum it on the south side for kicks-no matter how angelic she might look.

But when their shared love of street racing puts both their lives in jeopardy, they have six weeks to come up with a way out. Six weeks to discover just how far they'll go to save each other.
Oh Crash into You, I have been waiting for you the moment Isaiah showed up in Pushing the Limits and even more so when he was so torn up in Dare You To. And while I can't say you were my most favorite of the bunch, you surely did not disappoint in being absolutely fabulous. Katie McGarry continued to amaze me with her incredible characters and soul touching story lines.
It's only fair to start with Isaiah.

I knew I would love this boy that very first encounter and now, I'm head over heels completely crazy gaga in love with him. He was mister tough guy with tattoos and piercings and someone you don't mess with, but deep inside he's this super loyal and dependable guy. I was so heart broken for him in the previous book, I was glad he had his own story now. There was just so much more to him than what meets the eye. Though he thought he didn't deserve love or that he couldn't possibly be good enough for love, he was. He wasn't lacking in kindness, tenderness, concern and devotion for every single person he cared about.
Sweet sweet Rachel.

I liked Rachel, I really did. It sucked that she struggled with panic attacks and how she was overlooked by her family. I understood her need to make her mother and her whole family happy. She was strong because she held up for so long, but weak because she didn't speak up when she should have. However, Rachel was super cool because she was down to earth, loved cars just as much as Isaiah, and she was also loyal as hell. When she finally broke out of that shell of hers, I was damn impressed.
Isaiah and Rachel sitting in a tree...

I think the reason why this book was not my favorite of the three so far was because of how easily Isaiah and Rachel got together. It felt sudden to me, but it got better along the way because they were both starting to get under each other's skin and starting to feel things. They were trying to overcome a bunch of obstacles that were attempting to keep them apart. And I loved that Isaiah learned to let Rachel in and to let go of the control he needed and Rachel was able to be herself around him and allow her to realize that she was indeed strong and brave. While they were not my favorite in the beginning, they were just lovely by the end.
Cars, drag racing, fundraisers, and threats!

I loooooved that this book was all about cars, which brought Isaiah and Rachel together in first place, even though I know jack about cars. Can't say I wasn't confused by the terminology and gadgets and gizmos, but it was pretty awesome. I even loved all the drag racing and I appreciated the danger that became the conflict of the novel. And I adore McGarry for bringing the gang together in order to help Isaiah and Rachel in need. That's one the main reasons I love her books because they have a family aspect in them between people who are not blood related, but close enough to become the real deal. As of her previous books, there's a good amount of laughs, tension, make out sessions and family drama to keep you hooked.