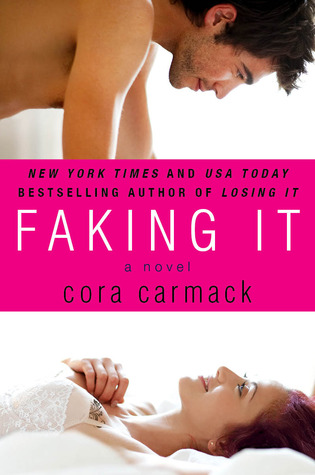 FAKING IT by Cora Carmack (LOSING IT #2)
Publisher
: William Morrow & Company
Publication Date
: June 4, 2013
Rating
: 4.5/5 stars
Get it
:
Amazon
|
B&N
Mackenzie "Max" Miller has a problem. Her parents have arrived in town for a surprise visit, and if they see her dyed hair, tattoos, and piercings, they just might disown her. Even worse, they're expecting to meet a nice, wholesome boyfriend, not a guy named Mace who has a neck tattoo and plays in a band. All her lies are about to come crashing down around her, but then she meets Cade.

Cade moved to Philadelphia to act and to leave his problems behind in Texas. So far though, he's kept the problems and had very little opportunity to take the stage. When Max approaches him in a coffee shop with a crazy request to pretend to be her boyfriend, he agrees to play the part. But when Cade plays the role a little too well, they're forced to keep the ruse going. And the more they fake the relationship, the more real it begins to feel.
Your companion and my
sorry-not-sorry
absolute favorite LOSING IT will always be near and dear to my heart and will be difficult to surpass by my biased unwavering love and loyalty, but FAKING IT, you must know that there was something about you that melted and captured my heart. The reason might be a certain someone with a four letter name.
First, let's talk about this faking it 'til it's real trope
(which I looooove)
going on here. It was so unexpected for both Cade
(*sighs*)
and Max because it's not everyday a girl comes up and asks a guy to be their pretend boyfriend. And let me tell you, I was riveted from that point on. The attraction and the connection and chemistry and sexual tension just kept on building and building until it exploded into this gooey, swoony, heart racing thing that I was all down for. Cade and Max's little charade started to become something more as they got to know one another, as they hung out more, as they got around the other's walls and especially when the kisses
(can't blame 'em)
were just too good to stop.
I was a fan of Cade already from LOSING IT. I was pretty sad that he couldn't be with Bliss and wasn't sure how I'd feel about him being with someone else. But holy hot Golden Boy did Cade step it up because damn
I can't even
. Cade was sweet, genuine, and so selfless, but he was also so freaking seductive and sensual too. I did not think he had it him, but woah baby he sure did. I adored how he readily agreed to Max's charade and ultimately ended up helping her push through her demons in the long run. He always made sure that Max knew that she was the most beautiful, worthy and spectacular woman there was. Cade just knew how to make a girl feel good about herself and he meant it in every way.
As for Max, the girl had some serious family drama, but I loved how she fought for her love of music, how passionate she was about singing, how she lived at the beat of her own drum. She was this firecracker of a girl who was fearless and mesmerizing and her only kryptonite was her conservative parents. I really liked her dyed hair, her beautiful tattoos, her sassy mouth, and just how far she has come emotionally and mentally. I just really dug Max's style.
So FAKING IT, my only complaint about you was the abrupt ending that really did end too quickly! It wasn't that I wanted more
(let's be real, I do)
I just wished it was drawn out a little bit more than it could have been. Nonetheless, FAKING IT, you have given me an outstanding read! I ate you up, giggled, squealed, fanned myself during those intense make out seshes, and probably hugged you so tight when I finished, you probably couldn't breathe
(if books did breath)
. In other words, my sweetest FAKING IT, you rocked my bookish world and then some. 


Love love love,

Jessirae xx


P.S. Milo and Spencer made such an impression on me, please tell your maker, the amazingness Cora Carmack, that they each need a book of their own!