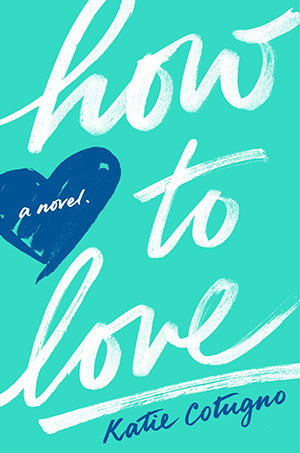 How to Love by Katie Cotugno
Publisher
: Balzer + Bray
Publication Date
: October 1, 2013
Rating
: 5/5 stars
Get it
:
Amazon
|
B&N
Before: Reena Montero has loved Sawyer LeGrande for as long as she can remember: as natural as breathing, as endless as time. But he's never seemed to notice that Reena even exists until one day, impossibly, he does. Reena and Sawyer fall in messy, complicated love. But then Sawyer disappears from their humid Florida town without a word, leaving a devastated-and pregnant-Reena behind.

After: Almost three years have passed, and there's a new love in Reena's life: her daughter, Hannah. Reena's gotten used to being without Sawyer, and she's finally getting the hang of this strange, unexpected life. But just as swiftly and suddenly as he disappeared, Sawyer turns up again. Reena doesn't want anything to do with him, though she'd be lying if she said Sawyer's being back wasn't stirring something in her. After everything that's happened, can Reena really let herself love Sawyer LeGrande again?
What I loved about How to Love by Katie Cotugno


1. Reena

I adored her from the very beginning and the more I got to know her, the more I wanted to be her friend so badly. She was quiet and reserved, intelligent, driven, and had a lot to learn when it came to love and relationships. I got to see how she was before the boy, during the boy and after the boy. I saw Reena kind of stumble through love and a weird undefined relationship and get hurt and grow up and all that jazz. I loved her because she was so real and flawed. She was a character who was smart and had goals but who made a few mistakes, lived on and tried to become someone better.

2. Sawyer

He was kind of the mystery boy, the enigma, the one to snag Reena's heart and attention. I wasn't quite sure what was up with him, but I knew he had some issues he needed to deal with instead of just run away from. I had a love and hate relationship with Sawyer because he could be the sweetest, deepest, cutest boyfriend towards Reena and then other times I wanted to bop him in the head for being so dumb and making dumb choices and tossing Reena around. But even though, like Reena, I had a soft spot for Sawyer. He wasn't entirely bad and he did redeem himself in my eyes. 

I do wish for his own book because I'd love to get to know him more and get lost in his mind.
3. Romance

The relationship between Reena and Sawyer was an odd one because they just "hung out" most of the time, there wasn't any labels until later on. Most of the time Reena didn't know what they were and there was a lot of ups and downs. They were not the perfect couple and they fought a lot. Reena kind of conjured up this great ideal Sawyer she knew from childhood and as she got to know him, it was clear that he wasn't like what she thought and vice versa. Still, they kind of made it work, but they struggled with letting each other in. Their romance to me was very genuine, something that couldn't be defined clearly, yet you know it was there and you know it's important and meaningful. They meant something to one another, but they just needed time to work their own issues out and grow up some more.


4. Reena & Hannah

These two were probably my favorite tandem and held the best moments in the book. Reena shined most when she was with Hannah. I felt the love she had for her daughter and though she lost her future plans, she gained a new one in Hannah. She never resented Hannah, but loved her so much. She wasn't a perfect mother, but it was obvious how much Reena cared. Reena had to grow up and mature really quickly and I saw just how much she struggled, but rejoiced with Hannah. They were adorable together.



5. Before & After

How to Love was spilt between the time before Sawyer left and then after. This worked so well for the book because I got to see how Sawyer and Reena came to be, how unclear and rocky their relationship was and why Reena ended up being stronger, more mature after everything she went through. We get to see exactly what lead up to the events of Sawyer's departure to his return and the affects this all had on Reena and how she coped. A lot of things are learned about Sawyer and Reena both individually and as a couple and this is drawn out wonderfully throughout the whole book at a really nice pace. And the best thing is that the before and afters alternate in a way that made sense as if the present Reena was thinking about the before events, like a day dream. It just worked so well and it made everything flow beautifully.


6. The Writing

Katie Cotugno did an incredible job of giving Reena a very distinct, clear, and personably voice. As I read the novel, I knew and felt it was Reena. There was something about Reena's voice that immediately had me taken and so absorbed into her story so quickly. Cotguno completely developed Reena's character and brought her out so throughly in the writing. It was amazing.
 

All in all, How to Love was an incredible story. It was engaging, thought provoking, and just relatable in many ways. There was just something about it that really captures the heart and keeps you glued to the very end.