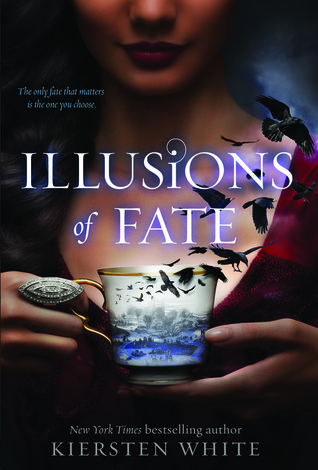 Illusions of Fate by Kiersten White
Publisher
: HarperTeen
Publication Date
: September 9, 2014
Source
: Edelweiss
Rating
: 5/5 stars
Get it
:
Amazon
|
B&N
Downton Abbey meets Cassandra Clare in this lush, romantic fantasy from New York Times bestselling author Kiersten White.

"I did my best to keep you from crossing paths with this world. And I shall do my best to protect you now that you have."

Jessamin has been an outcast since she moved from her island home of Melei to the dreary country of Albion. Everything changes when she meets Finn, a gorgeous, enigmatic young lord who introduces her to the secret world of Albion's nobility, a world that has everything Jessamin doesn't—power, money, status…and magic. But Finn has secrets of his own, dangerous secrets that the vicious Lord Downpike will do anything to possess. Unless Jessamin, armed only with her wits and her determination, can stop him.

Kiersten White captured readers' hearts with her New York Times bestselling Paranormalcy trilogy and its effortless mix of magic and real-world teenage humor. She returns to that winning combination of wit, charm, and enchantment in Illusions of Fate, a sparkling and romantic new novel perfect for fans of Cassandra Clare, The Madman's Daughter, and Libba Bray.
Illusions of Fate brought me back to the warm moment when I finished and devoured Kiersten White's Paranormalcy. It just brought me back to that place where I just knew I was reading something that good, something that hooked me beyond measure or explanation. Right from the get-go I was completely immersed into White's latest novel that contained ample amount of whimsicality, magic and edge.
There are many things I love about the main character of this book. Jessamin was such a breath of fresh air, a surprise and a delight to read and be in her head. She wasn't just independent or strong or brave. She was all that for sure but she was intelligent in a way that she was eager and ready to learn whether it be history, literature or magic. She had sass and snap and just the way she held her head high even when she was stared at or gossiped about made me admire her more and more.
When it came to Finn, it wasn't hard to fall in love with him. It was nearly effortless from his out of nowhere first appearance, to his charming personality and his eccentricity. There was just something about him that was so fascinating and magnetic and just gosh darn likable. I loved how he was just so flirtatious and slightly mad. I sort of liked the underlying unhinged powerful quality he exuded. When he wasn't flirting, he was joking around and being so humorous and even a little naughty.
My most favorite part of Illusions of Fate was the magic, the fantasy, and the intrigue. Jessamin gets thrust into the cold and rich world of Albion whilst leaving behind her warm and bright island of Melei. When comparing Albion to Melei, Albion lacked the inviting sun and the family traditions and gatherings. Avebury, where Jessamin lived in Albion, was described thoroughly and richly from the architecture to the cold weather to the snooty people and their elegant attire. White even included how people of Albion treated those who come from the islands through Jessamin's experiences and encounters of other people. How there was discrimination and prejudices from those with colored skin to those who are not as privileged to those who lacked the power Finn had. All of this just made this book inherently marvelous.
The main plot was what really had me spellbound the further I got into the book because it just got better and better. It wasn't just simple magic, it was a war of power and the villain, Downpike, was ready to do just about anything to get his hands on it. He was diabolical, vengeful, evil, and crazed. He was the perfect villain to the hero in Finn and the heroine in Jessamin. The conflict and revelational twists that surrounded these three was absolutely surprising and astounding. I never thought things would go that way and it was freaking awesome.
My only gripe with this book had to be the romance. There was nothing wrong with it per se. I loved the development of Finn and Jessamin's relationship and how both had to win over the other. I loved how they were beguiled by one another then at odds until they finally settled onto common ground of partnership and love. I just wish there was more of that romance. I needed just a little more to satisfy. Despite that, I was enchanted by their subtle romance anyhow.
All in all I thought Illusions of Fate was nearly impeccable. Readers will enjoy the fantasy ride brought on by the magic feud between Finn and Downpike along with Jessamin's smart thoughts and comebacks. There's much to love when it comes to Illusions of Fate!