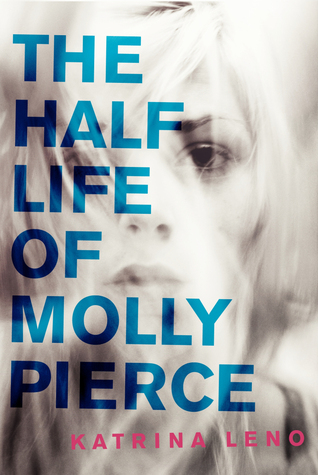 The Half Life of Molly Pierce by Katrina Leno
Publisher
: HarperTeen
Publication Date
: July 8, 2014
Source
: Edelweiss
Rating
: 5/5 stars
Get it
:
Amazon
|
B&N
You take it for granted. Waking up. Going to school, talking to your friends. Watching a show on television or reading a book or going out to lunch.

You take for granted going to sleep at night, getting up the next day, and remembering everything that happened to you before you closed your eyes.

You live and you remember.

Me, I live and I forget.

But now—now I am remembering.

For all of her seventeen years, Molly feels like she's missed bits and pieces of her life. Now, she's figuring out why. Now, she's remembering her own secrets. And in doing so, Molly uncovers the separate life she seems to have led…and the love that she can't let go.

The Half Life of Molly Pierce is a suspenseful, evocative psychological mystery about uncovering the secrets of our pasts, facing the unknowns of our futures, and accepting our whole selves.
I have so much words and feelings and thoughts for
The Half Life of Molly Pierce
by Katrina Leno. It would be a severe understatement to say that this book was just beautiful and breathtaking and one that swept me off my feet. From the beginning I realized that this book was going to be different in so many ways. We really dive deep into a young girl suffering from the clutches of a mental illness and watching her come to terms with it hoping she finds the happiness within herself.

I didn't so much as learn who Molly was, but I learned, felt, and experienced what she was feeling and thinking and struggling with every single day. She was a very sad girl who struggled to wake up day by day. The mere act of brushing her teeth and combing her hair and getting dressed was tiring and awful. She was quiet, reserved, and though she had two loving parents and siblings and two good friends, Molly still felt alone and lonely and sad. She was a depressed, she was living and forgetting and losing half of herself with no one to tell that she was. Molly may sound like character you rather not read about or get to know, but her desperation and need to find out why she felt she had no control of herself was profound. It was very obvious how erratic Molly's thoughts were. They quickly flowed together at a rapid pace. She moved from one thought to another on and on. I have to admit that this was disorienting, but it totally worked because I got to feel how out of control Molly felt. The sense of being utterly lost and on the edge of sanity was always present. The panic and confusion reached out toward me like an extension cord and just sucked me right in. I liked the way I was firmly placed into Molly's mind. Leno really captured Molly's thought process and her voice and brought that to life on the pages of this novel. I felt the chaos, messy and confusion rippling from Molly every time she lost time, every time she tried to reorient herself, and every time she was starting to remember something new.
After witnessing an accident and death, the ball starts rolling for Molly. Things become stranger and more unusual even for her. We're taken on this journey of Molly figuring out for herself what is wrong with her as patches of memories start to trickle back to her. As she sorts it all out, I collected clues, came up with my own theories, maybe even guessed what I knew to be true deep down inside of me, but waited for it all to be confirmed. Leno had little subtle hints dropped that were clever in their placement and worked well at keeping me on the edge of suspense. Along this morbid trip down memory lane, Molly realizes secrets and lies that are being kept and told to her. But on the other hand, she discovers a friendship and a love that changes everything for her. She figures out the lost part of herself has been there this whole time and she tries to reconcile the guilt and pain from what she has discovered and learns to stand on her own. For me, there was so much emotion and depth to both Molly's character and what she went through and I commend Leno for creating a book that contains many memorable, very quotable lines.
Overall, I found
The Half Life of Molly Pierce
to be extraordinarily poignant and enigmatic. It was brilliantly written, utterly thought-provoking and so ensnaring that just one more chapter simply became
two, four, six,
the end
.
*Thanks to HarperTeen for sending a copy for review purposes in exchange for an honest review