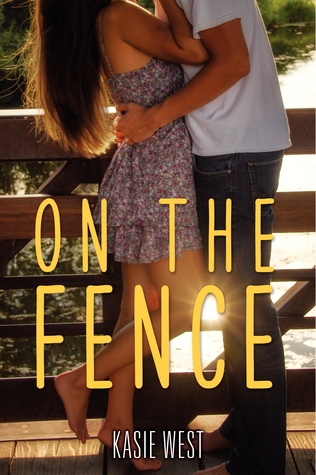 On the Fence by Kasie West
Publisher
: HarperTeen
Publication Date
: July 1, 2014
Source
: Edelweiss
Rating
: 4.5/5 stars
Get it
:
Amazon
|
B&N
She's a tomboy. He's the boy next door…

Charlie Reynolds can outrun, outscore, and outwit every boy she knows. But when it comes to being a girl, Charlie doesn't know the first thing about anything. So when she starts working at a chichi boutique to pay off a speeding ticket, she finds herself in a strange new world. To cope with the stress of her new reality, Charlie takes to spending nights chatting with her neighbor Braden through the fence between their yards. As she grows to depend on their nightly Fence Chats, she realizes she's got a bigger problem than speeding tickets-she's falling for Braden. She knows what it means to go for the win, but if spilling her secret means losing him for good, the stakes just got too high.

Fun, original, and endearing, On the Fence is a romantic comedy about finding yourself and finding love where you least expect.
It is always lovely to go into a book that just absorbs you from the beginning, gives you the laughs, makes you swoon, and just ends up being that comfortable laid back read you've been needing but never realizing that you did.
On the Fence
by Kasie West was that book for me and I ended up devouring this baby in less than a day!
The main gist of this book centered around Charlie. She's more of a competitive, sports playing, rough housing type of gal who was most comfortable in a t-shirt and jeans and didn't mind getting mud all over her when playing football. She was the type of girl who was independent enough, never really asked for help and didn't dare back down from a challenge even if it involved her brother's ridiculous little games. Like any person, she wasn't perfect and made some tremendous mistakes that involved lying and keeping secrets and being slightly insensitive, but she was only human. She just had a very fun filled nature about her even when she was haunted by her mother's death. Really, I liked this girl so much I think I'm sporting a serious girl crush.
For the romance part of this book,
god
, I don't even know where to begin. Charlie and Braden had this very comfortable, easy going, really really playful friendship already. They pushed each other, jumped on each others backs, flung food at one another. It was just so easy. The built up to their romance was spectacular and not rushed at all and even though they weren't making out or holding hands or getting it on, I was squealing and swooning all over the place because they were just so darn freaking cute! We see them get even closer by their first coincidental fence chats that become nearly a regular habit. They start to open up to one another more and more, Charlie starts to date, Braden gets jealous, they fight, but the thing that I really loved was the strong connection they had even as friends. It was absolutely genuine and natural for them to have feelings for another and to take that next step in that direction.
The summary of
On the Fence
makes it seem like the book is centered on the romance between Charlie and the boy next door, but while it was a significant part, it wasn't the whole book. I really got a sense of who Charlie was from her hilarious playfulness, to her stubborn demeanor and even when it came to voicing out her fears. While she was comfortable being a tomboy, she was definitely insecure about being a girl guys would like. She had this irrational fear that guys would not like a girl so throughly absorbed into playing sports. This kind of leads to her doing things she never would have done, which had some good and bad consequences. She also had underlying, unsolved issues about her mother's death which affected the way she saw herself as a girl and her friendships with other girls as well.
But while those seem to plague Charlie, it was quite obvious how her relationship with her brothers shaped her to be who she was today. They have a really strong bond and their closeness is something jealous worthy for any who wish to have that sort of amazing sibling relationship. It was one of my favorite parts of the book to see how close they all were. They didn't have a perfect family and although they got along well, I liked seeing that the things her brother's said did have an affect on Charlie and her way of thinking. 


All in all,
On the Fence
was just a perfect anytime, pick-me-up comfort read. It was just that type of book that didn't fail to put a smile on your face.
*Thanks to HarperTeen for sending a copy for review purposes in exchange for an honest review.
This in no way affects my view on the book