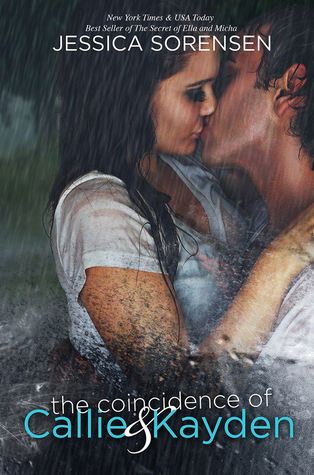 The Coincidence of Callie and Kayden by Jessica Sorensen (The Coincidence #1)
Publisher
: Forever
Publication Date
: August 6, 2013
Rating
: 4/5 stars
Get it
:
Amazon
|
B&N
For Kayden, suffering in silence was the only way to survive. If he was lucky, he could keep his head down, do as he was told, and make it through the day. But one night it seemed like his luck-and his life-might finally end... until an angel named Callie appeared just in time to rescue him.

Callie has never believed in luck. Not since her twelfth birthday when everything was taken from her. After the worst was over, she locked up her feelings and vowed never to tell anyone what happened. Now, six years later, she continues to struggle with the painful secret that threatens to consume her.

When fate lands Kayden and Callie at the same college, Kayden is determined to get to know the beautiful girl who changed his destiny. Quiet and reserved, Callie still fears letting anyone else into her world. But Kayden is certain that Callie has come back into his life for a reason. And the more he tries to be a part of her life, the more he realizes that, this time, it's Callie who needs to be saved...
The Coincidence of Callie and Kayden by Jessica Sorensen is not a lighthearted book. It was an intense, heavy, and very dark novel that really brought out the demons, secrets and ugly lives a person may live and try to deal with. It really brought out the message to be strong enough to share the inner turmoil with someone you can trust.
I was really aching for Callie and Kayden. Both had some serious issues that plagued them from early childhood and on. Callie withdrew from herself after a traumatizing event and had the hardest time trusting anyone else. Kayden struggled with a very rough home life and ended up dealing things in their own ways. While both of them struggled, they lived on in college and ended up opening themselves up to one another. Callie slowly trusted in Kayden and Kayden allowed himself to have an emotional connection with Callie. These characters were definitely broken, but not unfixable and they sure came a long way with the help of each other's company.
Sorensen did a great job of weaving these heavy dark issues and balancing them out with a love story between the main characters. The characters are fleshed out and well developed and we get a chance to get into both their heads. While these two get to know each other, their secrets get revealed slowly while still keeping the suspense and their turmoil still on the rocks. So much is still yet to dealt with and also, there's still so much more to these characters than what meets the eye and I like that Sorensen left it that way.
I also really loved the friendships in this book, especially the ones between Seth and Callie and Kayden and Luke. Together they were all silly and a force to be reckoned with, but apart they were also just as humorous and made way for a great amount of tension and comic relief. It really showed that though Callie and Kayden had trust issues, they both had someone else to fall back on, to talk to and they both valued the friendships. And when they all grew closer, they slowly became more than that. I thought it was pretty awesome.
Overall, I was throughly engrossed into The Coincidence of Callie and Kayden. I was intrigued by the characters, hooked by the plot line, and swayed by the chemistry in the romance. I definitely can't wait to read book two!