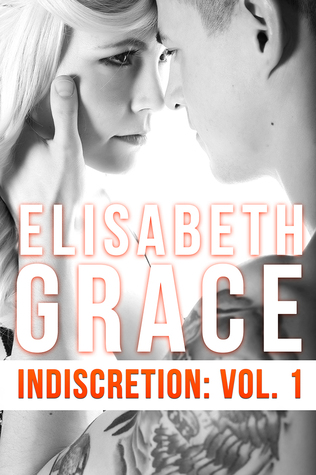 Indiscretion: Vol. 1 by Elisabeth Grace (Indiscretion #1)
Release Date
: August 4, 2014
Source
: InkSlingerPR & Author*
Rating
: 4/5 stars
Get it
:
Amazon
|
B&N
F*ck and chuck. Pump and dump. Hit it and quit it. One night stand. Didn't matter how I branded it—that's all she had wanted it to be. That much was clear when she left me with my pants down and my dick still out.

What she hadn't counted on was fate intervening and our worlds colliding—again.

The day I showed back up in the life of Chloe Griffins, I knew I had to have her again. My body was hungry for another taste. Like an addict, I'd been craving another hit for months, and there she was—flesh and bone, tits and ass.

The fact that she worked for the competition should've been reason enough for me to leave her alone. I had a job to do that summer and f*cking Chloe wasn't part of it. But I was like a man possessed.

I'd do whatever it took to have her again.
Indiscretion Volume One by Elisabeth Grace three words: quick, steamy, and witty. Don't mistake the shortness of this book with lack of depth because you get just about enough to get to know the characters while still keeping you wondering and needing to know more. 

I'm always intrigued by one night stands that turn into more because it seems so unlikely yet it kinda gives you that maybe-that-really-can-happen feeling. With Indiscretion Volume One, Chloe does something she's never done before and not only did it blow her mind, it kind of made way for her to explore this sexual side of hers unselfishly without backlash. I really liked Chloe because she was driven and hardworking, someone who was ambitious yet stepped up to take care of her kid sister. And while she seemed like a super woman and sister, Chloe had her vulnerable side, her own insecurities and fears. What I saw in Chloe was someone who was human, someone who was really easy to connect with.
With Max, I felt there was still a lot more to know about him. However, what I got from him in this first book is someone who was equally ambitious and goal oriented as Chloe. Both of them really valued their career. At the same time, Max was very wealthy, but he tried not to let his money and his last name define him. He wanted to do things on his own and that included swaying Chloe to have some form of a relationship with him. Max definitely had the perfect mix of sweet, strong, and sexy man who dominated without being aggressive.
Chloe and Max were a great match, they were very alike in values, drive, and goals but they were definitely from different worlds. Somehow they clicked and they really brought heat in the bedroom department. Each character had their own lovable quirks and together, they just really had it going on. 


All in all, Indiscretion Volume One was a great start towards this serial series and I'm excited to see how far Chloe and Max's fling will go. 

________________________________________________________
Indiscretion: Vol. 2 by Elisabeth Grace (Indiscretion #2)
Release Date
: August 18, 2014
Source
: InkSlingerPR & Author*
Rating
: 4/5 stars
Get it
:
Amazon
|
B&N
Fraternizing with the competition? Check.

Risking everything I'd worked so hard for? Check.

Mind-shattering orgasms? Double check.

Max Richfield made me forget myself. Forget all the reasons why I'd chosen to be alone for so long. I had goals. I needed stability. He brought chaos. I'd taken years erecting my walls. And with good reason, I would soon discover.

Now my inability to see beyond Max's charm could cost me everything.
Indiscretion Volume Two by Elisabeth Grace picks up right where the first installment left off. In this second book, things spice and heat up even more for Chloe and Max and I got even more insight on them together and individually.
Grace definitely ups the steam in volume two and makes way for feelings of romance to be experienced by the two as well. As Chloe and Max spent more and more time together, it started to get obvious that their fling was turning into something more.


I really liked that again this book was quick, fast paced, and still allowed the exploration of the blurring lines and mixing of sex and emotions. The proximity, chemistry and connection Chloe and Max continue to be even more palpable and the fact that they were both experiencing feelings for one another was pretty awesome because the hesitation and fear felt genuine and completely authentic between two people getting to know each other still. 

And speaking of getting to know, we get glimpses of Chloe's past and a bit of Max's background. Again, I like that we don't get the full effect just yet, but we get just enough of these two each and every time. 


The stakes get even higher and conflicts arise between Chloe and Max and this has me even more invested with these two! Overall, I'm on the edge of my seat and can't wait to get volume three! 


Elisabeth Grace has done amazing so far and I'm loving it so much.


*Thanks to InkSlingerPR and Elisabeth Grace for sending copy in exchange for an honest review.
This in no way effects my thoughts on the book(s).