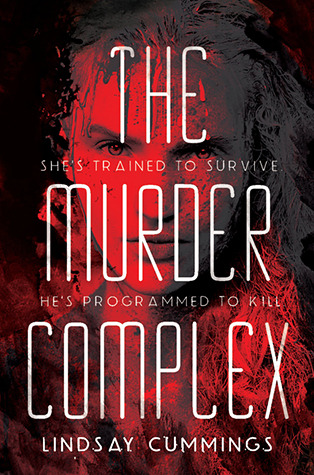 The Murder Complex by Lindsay Cummings (The Murder Complex #1)
Publisher
: Greenwillow Books
Publication Date
: June 10, 2014
Source
: Edelweiss*
Rating
: 5/5 stars
Get it
:
Amazon
|
B&N
An action-packed, blood-soaked, futuristic debut thriller set in a world where the murder rate is higher than the birthrate. For fans of Moira Young's Dust Lands series, La Femme Nikita, and the movie Hanna.

Meadow Woodson, a fifteen-year-old girl who has been trained by her father to fight, to kill, and to survive in any situation, lives with her family on a houseboat in Florida. The state is controlled by The Murder Complex, an organization that tracks the population with precision.

The plot starts to thicken when Meadow meets Zephyr James, who is—although he doesn't know it—one of the MC's programmed assassins. Is their meeting a coincidence? Destiny? Or part of a terrifying strategy? And will Zephyr keep Meadow from discovering the haunting truth about her family?

Action-packed, blood-soaked, and chilling, this is a dark and compelling debut novel by Lindsay Cummings.
The Murder Complex by Lindsay Cummings was a fantastic dystopian that had me gripping for the next chapter and kept me on the tip of my toes. I was throughly enraptured!


Meadow was trained by her father her whole life to survive, to kill or be killed in a world where murder was practically the norm. There are glimpses of this cruel and unusual training and I'm sure parts of it will take the reader aback. I really got a sense of who Meadow was, what was important to her and what truly went through her mind. She was very protective of her family and was willing to do just about anything to keep them alive, especially her young sister. Meadow was stronger than she looked. She didn't take pride in her killing, but she didn't regret it either. While I knew it was wrong, I understood that Meadow needed to do such things to survive and I was grateful for Cummings for keeping it that way and not sugarcoating it.


I liked Meadow, but I loved Zephyr because he was so different compared to Meadow. He, too did what he could to survive, but he was street smart, someone who put his head down to not be noticed. He was the comic relief when things got real serious. Zephyr was funny, sarcastic, sweet and warm and he was really too cute for words. And while he was the light in the book, he also was the darkness. He felt extreme guilt for killing people though he didn't really have recollection of the actual killing. He felt like he wasn't in control of his body. I felt true sorrow for Zephyr because it was obvious that he felt remorse and disgust.
I was impressed by the world building because it was throughly explained. I was able to adapt myself into this world easily and know exactly what was going on, what it was all about through the eyes of the two main characters. The world was complex, but not hard to grasp. There were different elements that really made this world unique from the making of the Initiative, to the implanted Pins, the Catalogue numbers on every citizen, the 4 Commandments that are not meant to be broken, The Pulse and the nanities. Even some small phrases that were specific to the originality if this book were fit for the world. The world itself was described thoroughly. I could see how bleak and frightening it could be, how cut throat and lonely as well. The people in this world were either starved for food or afraid of being murdered and the food given was just not cutting it and the Initiative wasn't protecting them. Even to get a job was brutal. I loved it and cringed at the same time. It did have a reminiscent feeling between Divergent, The Hunger Games, and the movie Hanna, but it still held its own. 


I think my favorite part of the whole book besides everything else I already mentioned has to do with the pacing. It was steady in the beginning, letting me get a feel of the world, allowing me to get to know Meadow and Zephyr and get attached on some significant level. I saw the lives they lived, the ways in which they survived, and how both became their own personal monster they couldn't really control. The pace picks up drastically to a certain point and from there it becomes a whirlwind of twists and turns and revelations. It was super thrilling and exciting and totally left my heart racing.


Overall, I adored The Murder Complex. It was a job well done and oh god, I need book two so bad it's like I'm on some serious withdrawal.