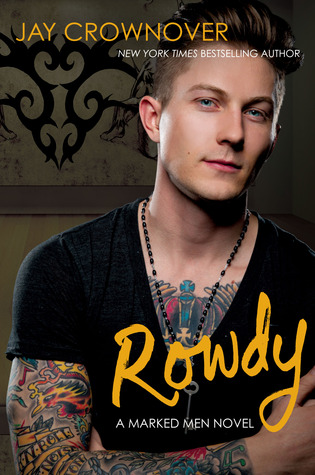 ROWDY by Jay Crownover (Marked Men #5)
Publisher
: William Morrow Paperbacks
Publication Date
: October 21, 2014
Source
: Edelweiss
Rating
: 5/5 stars
Get it
:
Amazon
|
B&N
After the only girl he ever loved told him that he would never be enough, Rowdy St. James knocked the Texas dust off his boots and set out to live up to his nickname. A good ol' boy looking for good times and good friends, Rowdy refuses to take anything too seriously, especially when it comes to the opposite sex. Burned by love once, he isn't going to let himself trust a woman again. But that's before his new co-worker arrives, a ghost from the past who's suddenly making him question every lesson he ever learned.

Salem Cruz grew up in house with too many rules and too little fun—a world of unhappiness she couldn't wait to forget. But one nice thing from childhood has stayed with her; the memory of the sweet, blue-eyed boy next door who'd been head over heels in love with her little sister.

Now, fate and an old friend have brought her and Rowdy together, and Salem is determined to show him that once upon a time he picked the wrong sister. A mission that is working perfectly—until the one person that ties them together appears, threatening to tear them apart for good.
Oh Rowdy! I never thought the day would ever come that I finally got to read your book and get to know all about you and your Anchor tattoo and pompadour styled hair. You absolutely, positively, indefinitely, slay me. You really really do. You were everything I hoped you would be, book and character and so much more. So much more. What can I say, I was a big fan from book one til now and wowza, I seriously could not get enough of you!
I already knew there was something special and unique about Rowdy, as was for the Marked Men. But Rowdy had that eat your heart out, play boy, will never ever settle vibe going on and then and then...I get a glimpse of the broken hearted, I let the one pass me by side that had me wishing I could cuddle him to my side forever. His story and past became a mystery I wanted to uncover. Each bit I did unravel while reading this book had me irrevocably attached. I was hit by Rowdy's compassion, his loyalty, his desire to loved and wanted and cherished. There was just more depth to his personality, to who he was as a person and as a man. He had some major vulnerabilities and insecurities that you wouldn't have thought was there, but this just made him more human, more reachable as a fictional character.
When it came to Rowdy's romance with Salem, this was where he showed that broken side of him and the fear he harbored. Watching these two fall in love was beautiful. They weren't perfect, both had issues to contend with whether it was from the past or the unknown future ahead of them. I liked that Rowdy and Salem had history. They had room to learn from their mistakes and grow to be independent people who can love one another. Salem was a great match for Rowdy. She was his perfect girl with her flirtatious nature and come right at you attitude. She was bossy, and witty, and caring all wrapped in her tattooed pin-up girl look that totally rocked. They worked even though they felt like it wasn't going to and lets be honest, they were hot as hell together. They had the best chemistry and sexual tension that just built up nicely and exploded epically. Rowdy and Salem were just amazing together.
Jay Crownover continues to floor me with each and every book she delivers brilliantly in the Marked Men series. I always end up devouring the current book and aching for the next. It's an addiction I refuse to shake off. Every book keeps giving glimpses of characters that I have fallen so deeply in love with and when it comes time for their turn to be front and center, it's inevitable that my love for that character expands and extends and gives me all kinds of ooey gooey feels. And boooooy was I feeling them feels with Rowdy 100 percent of the way!
ROWDY was exceptional and I cannot wait for more!