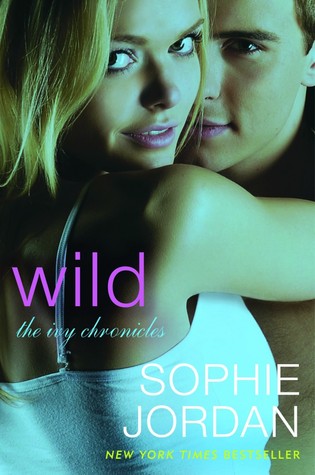 WILD by Sophie Jordan (The Ivy Chronicles #3)
Publisher
: Avon
Publication
: November 18, 2014
Source
: Edelweiss
Rating
: 5/5 stars
Get it
:
Amazon
|
B&N
Months after her boyfriend dumped her, Georgia can still hear the insults he hurled at her. Boring. Predictable. Tame. Tired of feeling bad, she's ready to change her image, and go a little wild. What better way to prove her ex wrong than a hot night of sexual adventure at the secret campus kink club?

In the shadowy den of the kink club, she unexpectedly runs into Logan Mulvaney, her friend's little brother. A player extraordinaire too hot for his own good, he may be younger, but the guy is light years ahead when it comes to sexual experience. Now he's telling her to go home—"good girls" don't belong here!

Georgia is tired of having others define her. She's going to teach Logan a lesson he won't forget—one white hot, mind-wrecking kiss . . . that leads to another . . . and another . . . and. . . . Realizing she's way in over her head, Georgia runs.

Only Logan won't let her go. Everywhere she goes he's there, making her want every inch of him. Making her forget who she is. Who he is. And just how wrong they are for each other.
Oh my god someone hold the phone, because Wild by Sophie Jordan was the best of the best of the Ivy Chronicles trilogy and I just have to tell everyone how amazeballs it really was. I have to say that Jordan really outdid herself with this one. Hands down, Wild was one of my all time favorites.

This book was made by the unexpected and surprising pairing of Georgia and Logan. These two just rocked this book so thoroughly. Georgia was a gem. I liked her so much because she was a great friend, a warm and nice person in general and smart to boot. I loved seeing her try to step out of her shell and be a little wild and adventurous. Logan was a surprise altogether. After seeing him as a playboy in the first and second book, it took my breath away to see another side of him; an understanding, deeper, and gentle side at that. The dirty talking, super sexy, get you all hot and bothered side was to be expected, of course, but to read it an action was something else. Hot daaaaamn!

I also really loved how these two got to know each other while walking along the edge of their sexual tension. Logan brought out a more spontaneous side out of Georgia, whilst not making her do anything too drastic to change her true character. Georgia learned to embrace what she really wanted. She also learned that it was okay not to live up to every expectation and to deviate from them. Logan really helped Georgia to not fear the unknown or the disappointment that she may receive. Georgia got to see how big of a heart Logan really had, the softness and achilles heel he had when it came to caring for others. I just thought the change and the growth these two showed for each other and with each other was truly amazing. It was great that Jordan made room for readers to change their perspectives on these characters and allowed us to see something that was hidden behind the scenes when they weren't front and center. 

There was a lot of push and pull in this book between Georgia and Logan, more push from her and more pull from him. Logan brought out the delicious side of things very nicely, if I do say so myself and Georgia was mostly the one that struggled with her impulses and feelings and fears. It wasn't to say that Logan didn't have his issues, but I thought he was more sure of what he wanted compared to Georgia. I get the hesitation from Georgia and while the set backs between them were frustrating, it was more than evident that it would be all worth the conflict and overbearing mothers and difficult fathers and kinky clubs in the end.
All in all I thought Wild was the most satisfying of all three books in every way from getting to know Georgia and Logan, to the romance, to the delicious sexy times, and to the conflict and overall plot line. What's best is that Jordan was very generous with the reappearances of Pepper and Reece and Emerson and Shaw. We get a little more of them and that made my heart super happy to know where they were going and doing next. Wild wraps up the series with a nice shiny bow of contentment. And though I will miss the characters in the series, I am not sad to see them all where they rightfully should be, blessed and full of happy ever afters.