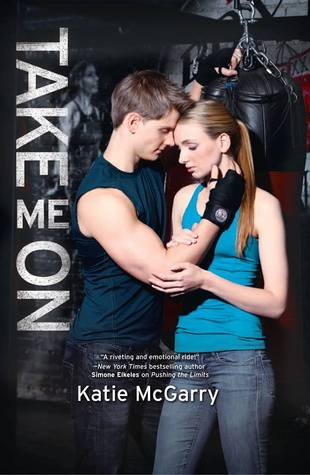 Take Me On by Katie McGarry (Pushing the Limits #4)
Publisher
: Harlequin Teen
Publication Date
: May 27, 2014
Source
: Netgalley
Rating
: 5/5 stars
Get it
:
Amazon
|
B&N
Acclaimed author Katie McGarry returns with the knockout new story of two high school seniors who are about to learn what winning really means.

Champion kickboxer Haley swore she'd never set foot in the ring again after one tragic night. But then the guy she can't stop thinking about accepts a mixed martial arts fight in her honor. Suddenly, Haley has to train West Young. All attitude, West is everything Haley promised herself she'd stay away from. Yet he won't last five seconds in the ring without her help.

West is keeping a big secret from Haley. About who he really is. But helping her-fighting for her-is a shot at redemption. Especially since it's his fault his family is falling apart. He can't change the past, but maybe he can change Haley's future.

Hayley and West have agreed to keep their relationship strictly in the ring. But as an unexpected bond forms between them and attraction mocks their best intentions, they'll face their darkest fears and discover love is worth fighting for.
Take Me On has come extremely close to topping Pushing the Limits for me. There was just something powerful and heart wrenching when it came to Haley and West's story that nearly gave me as much emotion that I got from Noah and Echo. Katie McGarry just continues to dominate with her fantastic stories!
The Characters

West was impulsive, prideful, and had a temper that needed to be reined in. He had a strained relationship with his father and felt immense guilt for Rachel's accident. Haley was strong, fierce, and self-sacrificing. She too felt extreme guilt for her family and bottled up many problems and emotions that she needed help with.What I loved about these two were how opposite they were of each other on the outside, but so alike in the inside. Haley wasn't as privileged as West was, but both seem to carry the weight of the world, both love their families to death, and both would do anything to protect them. I ached for Haley because of all the things her family lost, her living arrangement, the horror she went through and the fear that continued to haunt her. I loved West for being so protective, for wanting to help Haley, for realizing how lucky he was and how much he needed to change and be a man.
The Romance

This book really does deal with the touch stuff and personal issues. It wasn't always happy go lucky times between West and Haley. They had to keep working at it. What I loved about what McGarry did with their relationship was allowed them to do stuff not for the other person, but for themselves alone. There was give and take and there wasn't a clear set happy ending. The future was still unknown and I liked that for Haley and West because their journey to each other wasn't easy at all. I also really enjoyed the training that went with West and Haley's story. I liked how fighting became their symbol, but in a good way. Fighting was what kind of broke them individually, but it also fixed them and led them to one another. It was nice to see how the training and the kickboxing played a significant role in their relationship.
The Plot, Conflict and Setting

The book takes place in a "not so good" neighborhood. There's drugs, drug dealers, drug users, people getting jumped, fighting, etc. It wasn't picture perfect and it suited how difficult it was for Haley and West to be together. The book mostly centered on fighting, especially between Haley's family and of her ex boyfriend's family and gym. It also focused on using the sport of fighting for the good versus the bad. There was definitely some heavy stuff well worth mentioning such as homelessness, verbal abuse, physical abuse, and dysfunctional families. But opposite that, McGarry celebrated familial love and the depth in which such bonds reach and also the love felt between West and Haley. There were also plenty of surprises and revelations that should rock the boat and keep readers totally mind boggled.
All in all, I thought Take Me On was wonderfully written. McGarry really brought forth the intensity and whirlwind moments full of heartbreak of different varieties. She left a message to never give up and to push through the demons bringing you down. She displayed the importance of family and the ability to discover what makes you truly happy.

*Thanks to Harlequin Teen for sending a copy in exchange for an honest review